Linda Joyner
February 2011 Graduate
Meet National Training, Inc.'s Heavy Equipment Operator School's Graduate of the Month, Linda Joyner.
Linda is a mother to 3 children who are all high school age now. Linda tells us she draws a lot of inspiration from her father and mother who both served in the military. Linda followed in their footsteps and enlisted for 10 years herself. After getting out Linda didn't really know what to do. She's worked in retail for a bit but started to miss her family life.
Linda then chose to become a heavy equipment operator because she remembered as a child how excited she became when she watched heavy equipment machines in action on different projects. As Linda grew she realized it was still exciting for her to see the bulldozers, the cranes, and the excavators operate on the job site.
Then and there she knew this is what she wanted to do with her life and she hopes to make her mark in this industry.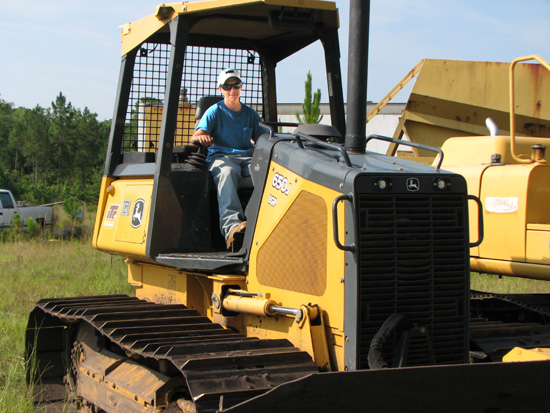 Somehow we know not to doubt her.
Linda told us she chose our school because it offered the most hands on field time with the machines and various projects. It's true, our students spend 4 solid weeks behind the controls mastering the subtleties of the machines.
When we asked Linda what her experience was like with us she said "I enjoyed learning how to operate all the machines. I appreciated the training from start to finish. The extra hints or insiders knowledge the instructors gave proved to be useful."
During extensive training programs every student goes through an uncomfortable period about the unexpected things to come. This is especially true once new students start to operate the equipment in places that are uncomfortable to them. In Linda's case it was working with the bull dozer on the side of hole that was dug as part of the class project. Linda felt the bull dozer was going to roll over however, according to her our lead heavy equipment instructor, Sam Hogg was what helped her through the project and build her confidence in the machine.
Linda's future plans are to work in environmental cleanup restoring land back to it's natural state.
We asked Linda if there was anything else she wanted to add to her profile and here's what she said. "Even a 5' female can operate massive machines. I came out unafraid but respectful of the their dynamic abilities."
Wow, now that's confidence! We love it!
Linda, we want to thank you for choosing National Training to advance your future and help you achieve your dream. We have a feeling you'll do very well and make your mark.
Please stay in touch and everyone congratulate Linda on a job well done.
National Training Inc.'s Heavy Equipment Operator School