Kevin Keach
February 2010 Graduate
Meet National Training, Inc.'s Heavy Equipment Operator School's Graduate of the Month, Jerry Keach
Jerry hails from Oak Harbor, WA.  Yes, that's Washington State.  Jerry is married to a lovely woman named Candace and six children…wow!  Our hats go off to you and your wife Jerry, you're a lucky man.
Another interesting fact about Jerry is he is the owner/operator of a Gravel Doctor franchise.  What is "Gravel Doctor"?  Well Gravel Doctor is a revolutionary idea in the recycling of existing gravel material found on gravel roads, drive ways or parking lots.  Gravel Doctor's recondition these surfaces so they become resistant to pot holes and ruts.
We asked Jerry why he wanted to learn to become a heavy equipment operator and he  tells us, as he puts it, "I enjoy working outside and getting my hands dirty and I really enjoy working on my tractor and with the Gravel Doctor machines.  However, the tractor and gravel doctor machine can only do so much.  In order to accomplish more I needed the knowledge and skills of other heavy equipment machines. It seemed like the natural choice in my career and professional life to become a heavy equipment operator."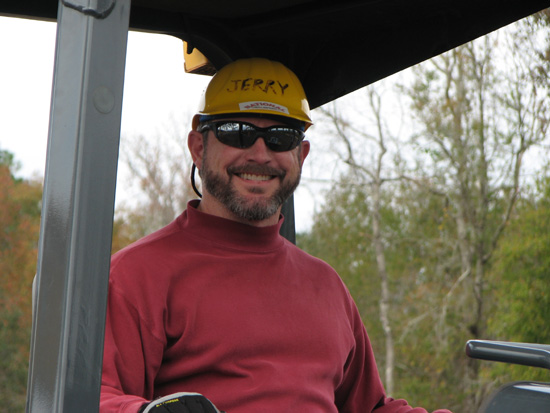 We also asked Jerry why he chose National Heavy Equipment Operator School to receive his training.  Jerry says, "I chose NTI due to its National Accreditation, VA DANTES and due to the fact that the curriculum was split for an at-home phase and a Resident Training phase.  Having the online course allowed me to keep my business open during its heaviest volume time – late spring then early autumn and completing the book work at home, at night it also meant that a vast majority of Resident Training would be spent operating equipment in the field versus sitting in the classroom."
Jerry, you hit the nail on the head.  Having the book work completed prior to attending our school is our goal.  This absolutely does allow the students to spend the vast amount of their time on the equipment versus the classroom.
Jerry's experience with National, as he tells us, "I enjoyed getting to know who make up NTI.  The instructors, admissions representative, other students, the scheduling representative, the distance education director and the other staff I came in contact with. The most challenging aspect of my training was learning the offset on the large excavator.  However, with the instructor's patience and guidance I overcame that obstacle and succeeded. This, as well as the confidence gainer on the other equipment is sure to make me a valuable and productive employee whether for myself or for another company."
Jerry it was great getting to know you and we appreciate everything you have said and we really want like the way you saw the value in the training you have received from us and the method in which we present our course.  We pride ourselves on developing a method that best suites our students but still provides our students with a great learning experience.
As for Jerry's future plans he wants to take his heavy equipment training along with his CDL training he received from NTI and apply those to a construction company in need of his skills and talents.  He also wants to use these skills  and expand his franchise into new markets outside the normal realm of Gravel Doctor, USA.
Jerry, we can only simply say wow.  You have great vision and great drive and we know you will use your skills and succeed in what your vision has become.  We want to thank you for allowing us to become a part of your plan.
All of this is emphasized with the comments our instructors had about their experience with you.  Please read below.
Instructor comments:
"Jerry was always here on time and was always ready to start as soon as we could. Jerry enjoyed operating every piece of equipment and it didn't matter what job needed to be completed, Jerry was there ready and willing. Jerry did tell us he worked for his self repairing driveways and roads. He also mentioned he wanted to really learn the bulldozer. We saw he was a natural with it performing the cuts like a seasoned operator.
When Jerry needed any help he didn't hesitate to ask. Jerry also showed a lot of initiative on projects by jumping in before being asked to do so. After all the training Jerry showed he was proficient on all the machines. Jerry is and will be a valuable asset to his company and any other he decides to work with."
Jerry, from all of us we want to thank you for the experience we've shared with you.  Please keep in contact with us.
National Training, Inc.'s Heavy Equipment Operator School